SHIPPING ALERT: Due to heavy Black Friday volume, not all orders will ship on time. We're sorry, and we'll be back on track shortly!



On Sale This Week:

Up to 40% off statues!
Description

Created by Steve Niles and Ashley Wood! Nick Hammond and Anastasia Collins are the Mystery Society and bring new meaning to underground cult status! Stealthily avoiding the authorities, this skullduggery duo spend their time and money righting wrongs committed in the world's underbellies. This issue, Ana defends their secret headquarters as Nick goes on a rescue mission breaking into Area 51 for a bounty that you will not believe!
Recently Viewed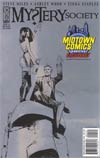 Regular Price $5.99
Your Price $5.09
You save $0.90 (15%)