SHIPPING ALERT: Due to heavy Black Friday volume, not all orders will ship on time. We're sorry, and we'll be back on track shortly!



On Sale This Week:

Up to 40% off statues!
Description

In a desperate bid to fend off an endless horde of vampires, the X-Men do the unthinkable: They resurrect Dracula. Will the former Lord of the Vampires go along with Cyclops' scheme to take down Dracula's upstart son, Xarus? Meanwhile, Wolverine sets off to rescue Jubilee, unaware of the chilling transformation she has undergone. To attempt to free his former teammate, Wolverine must embark down his darkest path yet.
Recently Viewed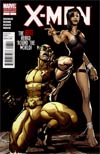 Regular Price $3.99
Your Price $3.39
You save $0.60 (15%)