SHIPPING ALERT: Due to heavy Black Friday volume, not all orders will ship on time. We're sorry, and we'll be back on track shortly!



On Sale This Week:

Up to 40% off statues!
Description

STAN'S BACK! The Publishing Event of the Year! Stan Lee, the most colossal force in the history of comics, teams up with BOOM! Studios to deliver a brand new line of superhero comics! The great innovator of our industry brings his inimitable talents back to the direct market in an explosive line of comics that nobody is prepared for! Half-Human. Half-Alien. All Weapon. In this first ongoing series, Soldier Zero, Stan teams up with critically acclaimed writer Paul Cornell (Action Comics, Doctor Who) and artist Javier Pina (Superman, Batman) for a dramatic, action-packed superhero scorcher. When an alien parasite falls to Earth, wheelchair-bound college student Stewart Travers becomes infected, and goes through super-human changes that no mortal could imagine. Forced into a galactic war that's chosen Earth as the battlefield, Stewart defends the front line as...Soldier Zero!
Recently Viewed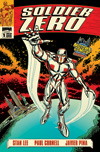 Regular Price $10.00
Your Price $8.50
You save $1.50 (15%)