SHIPPING ALERT: Due to heavy Black Friday volume, not all orders will ship on time. We're sorry, and we'll be back on track shortly!



On Sale This Week:

Up to 40% off statues!
Description

ONE THOUSAND OPAS AND A DEAD BODY—No one knows where these two warriors came from. The only thing that's clear is that they're two of most ornery, trouble-making $%@# that have ever lived. SKULLKICKERS is a fantasy action-comedy: Two mercenaries are entangled in a high-class assassination plot and nothing—werewolves, skeletons or black magic—will stop them from getting paid. If you love tabletop fantasy RPGs or movies like Army of Darkness, SKULLKICKERS is waiting for you!
Recently Viewed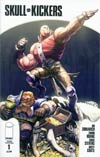 Regular Price $2.99
Your Price $2.54
You save $0.45 (15%)