SHIPPING ALERT: Due to heavy Black Friday volume, not all orders will ship on time. We're sorry, and we'll be back on track shortly!



On Sale This Week:

Up to 40% off statues!
Description

Imported from Japan! First 4 Figures proudly presents Modern Sonic, kicking off a new line of Sonic the Hedgehog collectibles! In the most action-packed pose yet, Sonic is in full spring mode, but still having the ability to grin as he zooms past! He flies across the beautiful ocean scenery of Emerald Coast on his way to the encounter with the giant Orca! He crouches over and comes to an impressive 15' tall. If he stood straight up, he would be 18' tall, including the base. This version of the statue has a slow pulsing blue base that represents the movement of water in Emerald Coast and also has flashing yellow sparks that recreate the speed and movement that fans expect from the Blue Blur. Limited to 1,650 pieces, the Modern Sonic statue is sculpted by Khurram Alavi.
Recently Viewed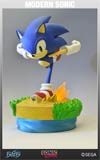 Regular Price $199.99
Your Price $129.99
You save $70.00 (35%)