SHIPPING ALERT: Due to heavy Black Friday volume, not all orders will ship on time. We're sorry, and we'll be back on track shortly!



On Sale This Week:

Up to 40% off statues!
Description

From Megahouse. Binbo-gami Ga! ('God of Poverty' in English) is a series about a high school student whose body is filled with Fortune energy, and to counteract the good luck she brings a God of Misfortune comes to Earth to restore balance to the world. Ichiko Sakura is the embodiment of good fortune in the series, and this PVC statue recreates the series' main character. Standing 7 7/8 tall, Ichiko comes with a miniature figure of Momiji, the God of Misfortune. Window box packaging.
Recently Viewed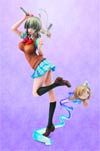 Regular Price $139.99
Your Price $104.99
You save $35.00 (25%)