SHIPPING ALERT: Due to heavy Black Friday volume, not all orders will ship on time. We're sorry, and we'll be back on track shortly!



On Sale This Week:

Up to 40% off statues!
Description

Having retrieved the second half of the Sunfury Amulet- Sinbad and his crew race back to the volcanic island of Ma'rut. The wizard Kabrít Amûd and his army of fire demons are hot on their tail- determined to retrieve the powerful magic amulet. Meanwhile- Pots' rescue of Samelia from the Witch Queen Alorana doesn't go as planned as Alorana's guards trap them in her palace chambers- cutting off any chance of escape!
Recently Viewed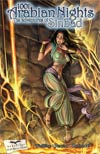 Regular Price $2.99
Your Price $2.54
You save $0.45 (15%)