SHIPPING ALERT: Due to heavy Black Friday volume, not all orders will ship on time. We're sorry, and we'll be back on track shortly!



On Sale This Week:

Up to 40% off statues!
Description

From Sima/ZWCO! A legendary piece of Hong Kong cinema, A Better Tomorrow starred Chow Yun-Fat as Mark and was directed by John Woo. Fans of Asian cinema will thrill to this stunning 1/6-scale version of Chow Yun-Fat's Mark that features an all-star line-up of sculptors - IMINIME for the head sculpt and painting, ZCWorld Tailor Team for the costume, and DoubleLine for the graphic and art design. The figure features a life-like head sculpt, 3 pairs of hands, costume, and accessories (including mobile phone, sunglasses, money, pistol, and cigarettes). The figure also comes with a scene background and action figure stand.
Recently Viewed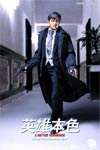 Regular Price $169.99
Your Price $152.99
You save $17.00 (10%)