SHIPPING ALERT: Due to heavy Black Friday volume, not all orders will ship on time. We're sorry, and we'll be back on track shortly!



On Sale This Week:

Up to 40% off statues!
Description

Some jobs a man just has to do with his own two hands! For the first time in a loooong time, it's the one, true GREEN GOBLIN versus the AMAZING SPIDER-MAN! And whoever walks away from this one still has to face... HARRY OSBORN?! Just what is HARRY up to?! Plus: ANTI-VENOM goes toe-to-toe with a classic villain from Spidey's past! This one's got it all (including more pages!), Spider-Fans, and when it's over, your eyes are gonna need a vacation!
Recently Viewed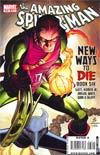 Regular Price $3.99
Your Price $3.39
You save $0.60 (15%)