SHIPPING ALERT: Due to heavy Black Friday volume, not all orders will ship on time. We're sorry, and we'll be back on track shortly!



On Sale This Week:

Up to 40% off statues!
Description

Find out how Mercy Sparx- a Devil Girl hired by the big shots in Heaven to secretly take down rogue angels- got to Earth. Serendipity- a muse turned DeeJay battles it out with our unlikely heroine. It's either succeed and get a free pass through the pearly gates- or fail and risk going somewhere much worse.
Recently Viewed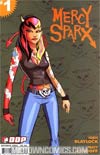 Regular Price $3.50
Your Price $2.98
You save $0.52 (15%)