SHIPPING ALERT: Due to heavy Black Friday volume, not all orders will ship on time. We're sorry, and we'll be back on track shortly!



On Sale This Week:

Up to 40% off statues!
Description

SECRET INVASION IS HERE!! Years in the making, months in the teasing...and it all STARTS HERE!! The shape-shifting alien race known as the Skrulls has secretly infiltrated every super-powered organization on Earth with one goal...full-scale invasion! In this DOUBLE-SIZED first issue, page after page unveils reveal after reveal and shocking moment after shocking moment! Brian Bendis and Leinil Francis Yu leap off the pages of mega-hit New Avengers and deliver a story that will change the Marvel Universe forever.THE MARVEL UNIVERSE WILL NEVER BE THE SAME!!
Recently Viewed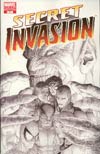 Regular Price $95.48
Your Price $81.16
You save $14.32 (15%)