Welcome back! Use this week's
MIDTOWN CODEWORD
to
SAVE 20%
on all back issues starting with the letter
"A"
Subscribe To Our Email Newsletter and Take Advantage of Incentives and More!
The Email Newsletter will include a link to all of the products on sale, as well as a codeword that you will use on the checkout page to activate the savings offered during the sale. Now onward!
PRE-ORDER SPECTACULAR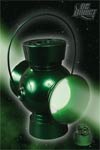 JLA TROPHY ROOM GREEN LANTERN POWER BATTERY PROP REPLICA
This detailed prop replica, measuring approximately 12" tall x 9.75" wide x 8" deep, is what Green Lantern fans have wanted for years – Green Lantern's Power Battery cast in metal! The latest JLA Trophy Room Replica comes with a "one-size-fits-most" (size 10) metal Green Lantern ring that lights up the lantern for 30 seconds when pressed against the face of the lantern, a resin stand to display the ring when it's not in use and a 4-color Certificate of Authenticity. Expected to arrive in early 2009, so act now to reserve yours and to take advantage of our 1O% DISCOUNT!
THE THINGS YOU NEED TO KNOW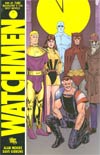 MIDTOWN PRESENTS: DAVE GIBBONS
Join us on Thursday, October 30th when we'll welcome Dave Gibbons to our Times Square store. Mr. Gibbons, the veteran artist and writer, whose many credits include collaborations with Frank Miller (Give Me Liberty/Martha Washington) and, of course, Alan Moore (Watchmen, Superman: For The Man Who Has Everything), will be signing for fans from 5 – 7pm. This special event will celebrate the release of the new retrospective work, Watching the Watchmen from Titan Books. The ultimate companion to a true masterpiece, Watching the Watchmen goes behind the scenes on the creation of the seminal work, offering rare glimpses of early Watchmen sketches, character designs, portfolio art and much more. Be sure to check out our special Watchmen page on MidtownComics.com to keep up with all of the books and merchandise being released as part of the build up to the premiere of the Watchmen movie next March. But first, make plans to stop by Times Square on Thursday, October 30th for our next big signing at Midtown!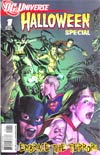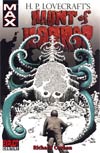 'TIS THE SEASON (NO, NOT THAT ONE)
With Halloween fast approaching, Marvel and DC both have books out this week to help comics fans get into the spirit of the season. First up, DC releases their annual DC Universe Halloween Special, featuring Superman, Batman, Wonder Woman and others, in tales of terror by writers such as Mark Verheiden and Brian Reed, and drawn by artists like Trevor Hairsine, Duncan Rouleau, with a cover by Gene Ha. Meanwhile, Marvel releases Haunt of Horror: Lovecraft, the Premiere Hardcover edition of Richard Corben's eerie adaptations of the poems and short stories of H.P. Lovecraft. Fans may want to also take another look at Corben's previous Haunt of Horror comics adapting the works of Edgar Allan Poe.
Final Crisis and Secret Invasion both return this week, as the mega-crossover-events move closer to their (presumably) Universe-altering conclusions. Final Crisis #4 again features the work of Grant Morrison and J.G Jones, this time joined by Carlos Pacheco. Morrison also brings us the 40 page one-shot Fianl Crisis Submit. Over at Marvel, Brian Michael Bendis and Leinil Yu are back with the penultimate issue of Secret Invasion, with the action spilling over into the pages of Secret Invasion Amazing Spider-Man #3, New Avengers #46 and Thunderbolts #125.


THE BOYS - SIGNED BY GARTH ENNIS
Reminder: The first three trade paperback collections of The Boys SIGNED BY GARTH ENNIS are still available, exclusively from Midtown. The first 2 volumes are even available for just $29.99 (originally $36.98)! Each book also comes with a certificate of authenticity. Dynamite Entertainment's The Boys, by Garth Ennis and Darick Robertson, has been one of – if not the most – talked about comics since its' debut. Combining elements from some of the creators' previous works – including The Pro, Transmetropolitan and Hitman - with a fresh take on the world of "Supes", this book continues to win over new fans on its' way towards "out Preacher-ing Preacher."
THE ITEMS YOU NEED
The Incredible Hulk is released on DVD this week, with a Regular, Blu Ray versions available, along with a 3-Disc Special Edition that includes an alternate opening. In addition to the hit film, Jeph Loeb is back with Hulk #7, with artists Arthur Adams and Frank Cho providing the two covers. There is also a variant cover by Michael Turner available, as well.
GI Joe A New Beginning marks the return of Larry Hama to the world of GI Joe. This special #0 issue is the first of the prelude issues that will set up the three GI Joe books set to launch from IDW in early 2009. Look for the variant cover by the great Ben Templesmith, or pick up one of the two covers by series artist Robert Atkins, and get ready for an all new era of GI Joe comics.
Lots of great Graphic Novels to choose from this week. Leading the way is the hardcover release of Paul Pope's sci-fi epic Heavy Liquid - re-colored and with bonus sketch material. Also seeing re-release this week is Bryan Talbot's brilliant, multi-verse spanning Adventures of Luther Arkwright TP. The Y The Last Man Deluxe Edition Vol 1 HC and the Aetheric Mechanics GN by Warren Ellis round out our recommendations.
Finally this week, some of the single issues we're most looking forward to include Criminal 2 #6, Daredevil #112 and Captain America #43, al by Ed Brubaker. Other monthly favorites include Scalped #22, Hellblazer #248 and Invincible #54.
AND DON'T FORGET...
That's all for this week, but remember these important and always relevant items:
We now accept PayPal for every any and all orders that you may make online. Online ordering has never been easier!
FREE subscription service - You can subscribe, for either home delivery or in-store pick-up, with the low minimum of ten books a month using our fast and easy subscription service
FREE bags and boards - Every comic book order for home delivery, no matter how big or small, will come with free bags and boards for each and every comic.
FREE shipping - For every order over $75 that you make, including the subscription service, you'll get free domestic shipping, and you can check how close you are to that free shipping on the left hand side of every page when purchasing items for home delivery
If you find something you think someone else will like, use our "Tell a Friend" feature to let them know
Looking for those hard to find back issues? Visit our new Back Issue Section on our online store where you will always get no gimmicks, just great prices.
Also remember, The Boys signed by Garth Ennis still available.
Thanks, Love, and Kisses from NYC,
MOM (The Men of Midtown)
The complete list can always be found at midtowncomics.com every Thursday evening
www.midtowncomics.com